Join Us for Virtual Reality and Video Game Design Workshops!
25. October
Virtual Aleppo in association with Are You Syrious
In association with the organisation Are You Syrious and HUB 385 we are organising a VR workshop: Virtual Aleppo. The VR workshop for young participants will take place on 12 and 13 November (Monday and Tuesday) at 4.30pm at HUB 385, Petračić Street 6.
At the workshop, the participants will have a chance to see the inspiring vision of the young Syrian architect Mohammed Kteish, who responded to the destruction of his native city of Aleppo with a scale model, transposed into virtual reality by VR experts. The participants will follow his example and 'reconstruct' Zagreb through paper models. Workshop mentors (Alex Pearson, creative producer, and Andy Overton, moving image designer, 3D animator and creative technologist) will then translate them into a digital form and create their versions in virtual reality. Virtual Aleppo premiered at Sheffield DocFest and a unique chance to participate is open to anyone fluent in English. The applications for the two-day workshop (12 and 13 November, 4.30pm to 8pm) are open on the email: inja@zagrebfilmfestival.com, with a subject: Application – Virtual Aleppo.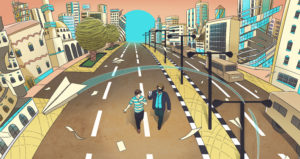 My First Video Game
In association with HUB 385 this year we are again organising the workshop My First Video Game. The creative game design workshop for children age 7-14 takes place at HUB 385, Petračić Street 6.
The aim of the workshop is to teach the young participants how to design video games in a very simple way. A simple game design software is used for teaching, making it possible to combine visual and sound elements into a simple interactive whole. The participants will learn how to use the increasingly popular MIT Scratch learning method to make their own video games. The workshop mentor is Andrej Jovanović, a lover of video games since childhood. He graduated in IT design from the Technical University in Zagreb and as since then worked on several game design projects.
If you want your young developers to take part in two free workshops (on Saturday, 17 November from 10am to 2pm and on Sunday, 18 November from 12am to 4pm), send an email to inja@zagrebfilmfestival.com with a note: Saturday or Sunday. All the participants should take their own laptops.