Making Films Visible: Interview with Daniel Hadenius-Ebner
25. October
Leading up to this year's ZFF, we are in conversation with Daniel Hadenius-Ebner, co-director and executive of the Vienna Shorts – International Short Film Festival and also one of the members of this year's ZFF jury for short films and Checkers. The selection of titles from this year's edition of the festival, curated by Daniel for the ZFF audience, will be available online as part of our accompanying program, Festivals in the Spotlight.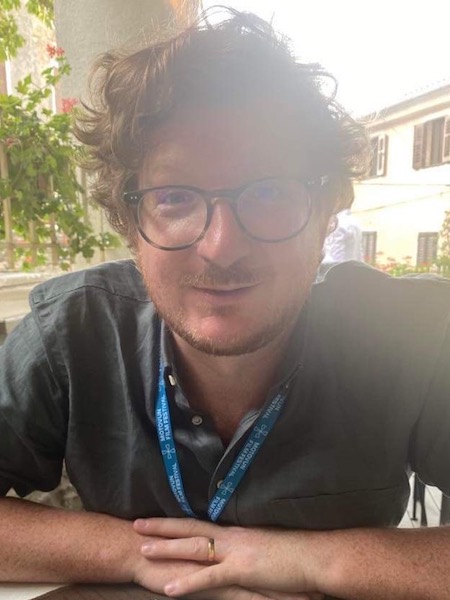 Daniel Hadenius-Ebner
Regarding accessibility to the general public and distribution, short films have long been overlooked in comparison to feature films. However, the short form is often the starting point for directors and is more inclined to experimental and innovative modes of cinematic expression. Undoubtedly, the visibility of short films has increased in recent years, partly due to numerous festivals and, on the other hand, the growth of streaming platforms and programs dedicated to short films. When you initiated Vienna Shorts 20 years ago, what was the situation like, and what prompted you to exclusively focus on the short film format?
When we started the festival, the situation was indeed quite different. The film landscape in Austria at the beginning of the 2000s was still quite manageable, filmmaking was still not exactly a low-cost affair, and yet people in the scene noticed that there was actually a lot more happening than was publicly apparent. This was partly due to the fact that short films were hardly shown at all in Vienna at that time, except very selectively at the Viennale or at cinema screenings of very small initiatives. The festival was then finally born out of the idea of combining several of these small initiatives and concentrating them in one week. At that time, we were primarily interested in making films visible and offering young filmmakers a platform to show their work. After the first few attempts, we quickly realised that there was actually quite a great need in Vienna – not only on the part of the audience, but also on the part of the industry to network nationally and ultimately also internationally.
The jubilee, 20th edition of Vienna Shorts was held at the beginning of June under the motto "Just A Moment, Please." What is the message behind that?
We liked the idea of inviting our audience to pause, to momentarily escape the hustle of daily life and concerns, and to join us at the festival to unwind. Take a moment, find comfort in our midst, meet exciting people, and watch exceptional films. At the same time, we programmatically dealt with the moment as the shortest and most fleeting unit of a film, those few seconds that will often stay with you forever, be it a moment of shock or a romantic moment. We showed films whose starting point was a photograph, or stop-motion animations that are virtually composed only of snapshots – and we screened films that sometimes only work with or towards this one special moment. So all in all, it was a very nice and satisfying edition.
photos by Hanna Pribitzer
Could you briefly describe the process of preparing a new festival edition?
Our ambition every year is not to rest on our past achievements but to continuously strive to question the future direction of the festival and what needs to evolve. Therefore, the weeks following a festival are of great importance as numerous discussions take place with our team, partners, funding institutions, filmmakers, and other festivals. From these discussions, we aim to distill an essence upon which the next festival can be shaped. In terms of content, we always keep a close eye on global political developments and seek to grasp the most significant aesthetic trends and currents through submissions and festival visits. This leads to in-depth discussions within the core and program teams during the fall, ideally resulting in a thematic focus or programmatic cornerstones. In my opinion, these months are the most exciting, as there is hardly a more stimulating process than watching the festival's rough framework gradually come to life with content.
The period of the pandemic brought a lot of turbulence among festivals, and many were forced to adapt to the new situation, to switch partially or completely to an online format and to get around the restrictions in various ways. What do you think, how much has this experience changed the way festivals are organised and held?
As challenging as the pandemic was for many of us and as tough as those years turned out to be, I ultimately found it to be a fruitful period. It forced us all to reevaluate our work and approach our festival goals with fresh perspectives. For instance, we engaged in numerous discussions within the European Short Film Network and collaborated with other festivals to enhance the technological infrastructure of the festival management system we all utilise. Our aim was to make films accessible to the public that we could otherwise only showcase during the festival or on special occasions. Consequently, we made the most of this time and now provide regular online programs. Nevertheless, we are well aware that, in many cases, the workload has increased while salaries have stagnated. This trend is something we have observed in many other places as well, so it's a matter that requires careful consideration by all of us.
photos by Peter Griesser
This year you introduced several novelties – from new festival awards to new locations. What is planned for the next edition?
An anniversary is always a good occasion to try out a few novelties. Some things like the free open air screenings at the MuseumsQuartier or the cinema truck at the festival center have worked well; other things, on the other hand, we are more likely to leave behind again. What we would like is to be able to keep the free admission for everyone under 20, which we implemented this year together with the City of Vienna; but we are still in negotiations with the city on that. And our favorite project last year was certainly the freshly planted trees that we started awarding as trophies for the prize winners: this project made big waves and will be continued in any case.
Vienna Shorts can boast the label of a green and fair festival. What does this mean in practice? How is the issue of the ecological crisis and the future reflected in the field of a film festival organization?
Yes, that was also a project that we were finally able to devote ourselves to in more detail during the pandemic. Using the Ministry of the Environment's Green Event Catalog, we worked to assess each of the festival's departments for their environmental friendliness and to initiate appropriate action if our activities did not meet the guidelines. This catalogue is very extensive and covers all kinds of areas: in production it is not least about waste reduction and green means of transport, in guest services about the most environmentally friendly arrival and departure of guests (including subsidies for guests arriving by train) as well as environmentally friendly hotels, in marketing among other things about the reduction of superfluous printed materials and printing on environmental paper, and so on. The changeover took quite a bit of time and money and would not work if the entire team did not pull together – all the more reason for us to be pleased that we can now proudly bear the Austrian Eco-Label. And to be honest, shouldn't we all make an effort to make our festivals sustainable, because who, if not publicly funded institutions, should set an example here?
photos by Hanna Pribitzer (left) and Peter Griesser (right)
Vienna Shorts is part of the This is Short project, an online platform for streaming short films, and two editions have been held so far. What was the feedback and are there any plans for new editions and programs?
Your question is timely. After the successful 2021 and 2022 editions, the European Short Film Network has decided to make our platform available not just for three months in spring, but throughout the entire year. For almost a year, we've been working diligently to rebuild and adapt the platform to fit this vision. If all goes as planned, we aim to announce our relaunch by mid-November. Currently, six festivals are on board and will offer online programming during their respective festival periods. Additionally, new short film content will be continually introduced on the main site year-round. We're excited about this development because in our first two years we attracted visitors from over 50 countries and noticed.how effective a well-curated festival platform for short films can be. Of course, we hope to maintain this high quality, even as streaming fatigue becomes more apparent globally. We're optimistic and hope that festival audiences from Croatia and beyond will soon explore "This Is Short".